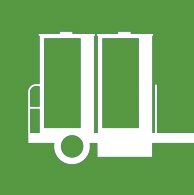 USES: 80 PEOPLE FOR 7 HRS
3000 Honda Gen. by request
STATIONS: 1 MEN / 1 WOMEN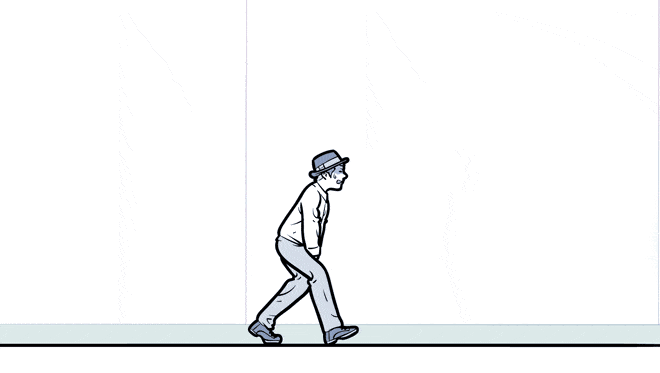 Prestige Restroom Trailer Units
Our solar portable bathroom rental is great for small event and tight locations!
These spacious "personal comfort zones on wheels" are fully self contained, and offer two individual restrooms with fresh water flush, sink, light, full length mirror, soap, paper towels, sanitary seat pads and dual paper rolls.
Event "PortaPotty" Restroom Rental On A Budget
On a budget? Don't have a big budget to rent a bathroom trailer for your event? No worries – this 2-room Solar Prestige Rental is for you!
Not all Los Angeles CA events have the budget for top-of-the-line luxury restrooms with amenities. Perhaps your event is a more modest affair with fewer guests than Hollywood star-studded soiree. We get it! However, no event is too small for a nice bathroom. Just because your budget may be lower than most, is not reason to subject your guests to smelly, cramped outhouses. Your guests deserve better! You have options! When you need a cheap portable toilet rental option, our 2-station Solar Prestige is your best best. Perfect for clients looking who are a budget, need to fit a restroom in small spaces, and /or remote areas, this is a popular, practical, and affordable option.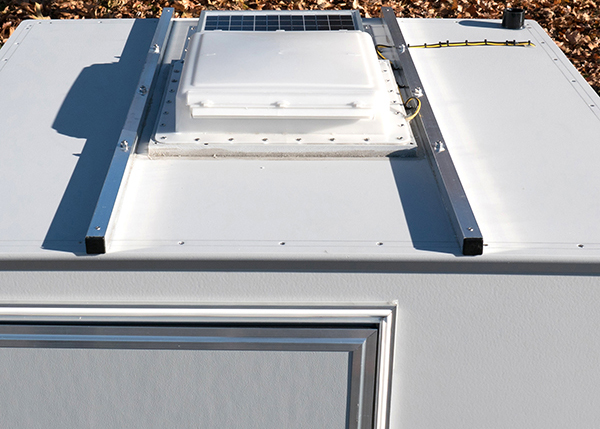 The Perfect Portable Restroom For Remote Locations
Southern California may be overrun with residents and tourists, but we still have our share of remote areas. The Golden State has plenty of off-the-beaten-track attractions— from abandoned bridges to destinations so remote they can only be reached by boat. From farms and ranches to the mountains, there are plenty of remote destinations in California. That's where sanitation can be difficult or even non-existent. Perhaps you are hosting a holistic retreat far away from civilization, to provide a much-needed break for your guests. Or, working on a construction construction project where plumbing is not yet ready. Our 2-station Solar Prestige is available to meet the needs of your crew, employees, or guests, when nature calls at a remote destination. Solar-powered and able to handle 80 people for 7 hours, it is a workhorse! And, with 200 gallons of freshwater, it provides superior portable sanitation amenities that the "portapotty" you can picture in a remote location.
Compact Portable Toilets For Small Spaces
We are often asked for a compact option for portable toilets, when space is at a premium. Small spaces can include construction sites, parking lots, filming locations, backyards, campsites and more. Not all locations are able to accommodate our larger luxury bathroom trailers. However, just because your space is small, doesn't mean you are limited to a cramped portapotty. With its easy access, 120 gallon waste tank, and width clocking in at just 8 feet, the 2-station Solar Prestige is an ideal compact bathroom rental option for small spaces.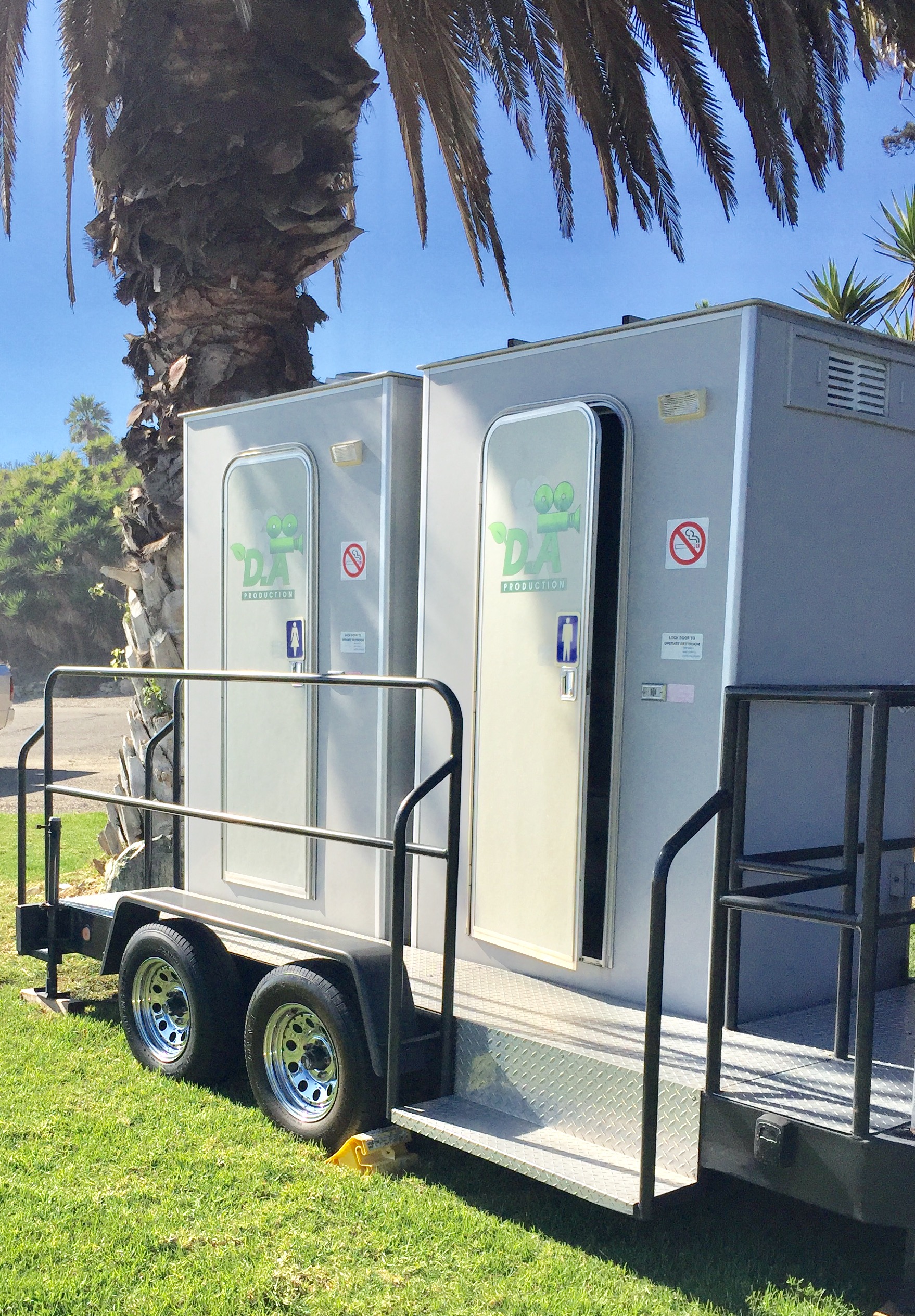 Interior Amenities
Small but mighty, our compact restroom unit features interior amenities that elevate your guests's experience. In each Solar Prestige, you will find large mirror, a 10" x 13" oval sink, a push button self-closing faucet, and a built-in trash receptacle. Our portable toilets are equipped with fully functioning flushing toilets that use fresh water. Our experienced restroom attendants go above and beyond in every facet of their jobs to ensure pristine working order and cleanliness.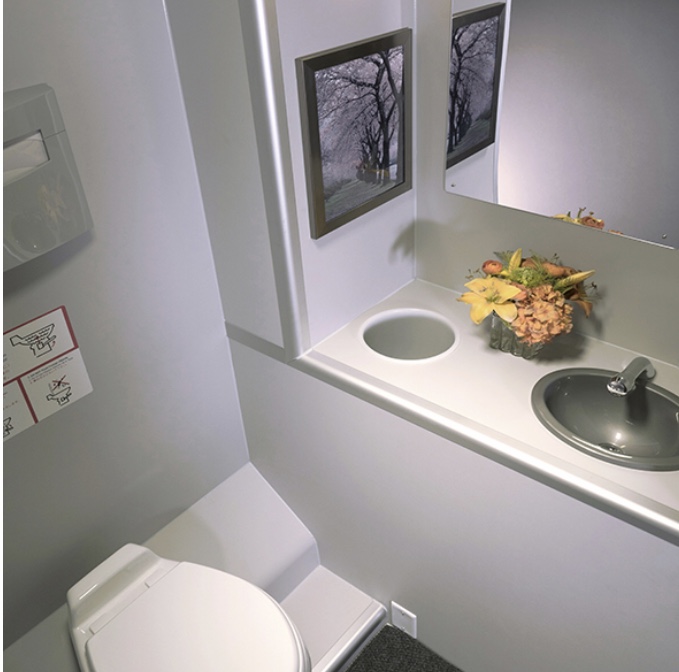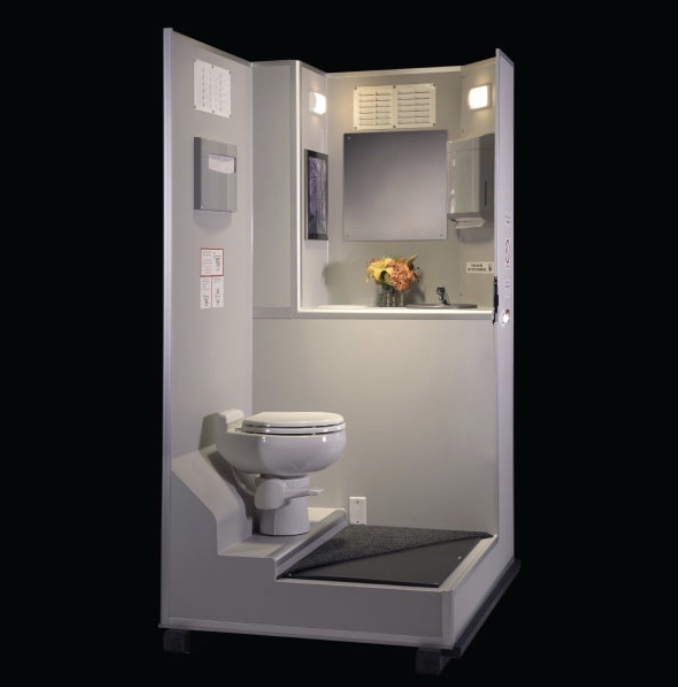 Special Event Porta Potty Rentals in Los Angeles, California
Los Angeles California home to some of the world's most famous events: red carpet events, award ceremonies, concerts, music festivals, sporting events and more! We know crowded events, having earned our transportation and event stripes in the heart of Hollywood. As a movie industry production vehicle provider, we have catered to the most discerning tastes on film production sets, and know what it takes to give guests the true star treatment. We are pleased to offer the same impeccable level of service, selection, and cleanliness to you! Whether your event is an intimate gathering, a beach wedding, or block party, you'll need to think about bathroom, and our Los Angeles CA portable bathroom rental service is here to help!
Rent A Fancy PortaPotty For Your Event
When your needs require an upgrade, give your guests and staff a stylish and comfortable alternative, with our 2-Unit Solar Restroom.
Loaded with extras, each Solar Restroom offers many luxuries not commonly found in a traditional portable toilet. This is not your father's PortaPotty! Roomier than most, our Solar Prestige Restrooms feature fresh-water faucets, incandescent lighting, convenience hooks for jackets and personal effects, a vanity mirror, and slip resistant flooring. It's so comfortable and clean, your event guests might even forget it's a "porta-potty!"
This hands-free, flushing portable restroom comes either as an attractive single standalone unit, or can be combined into a convenient 2-Unit Solar Restroom configuration on a convenient trailer. An "in-use" lighting system allows users to quickly determine if the restroom is occupied, and our 110 volt winterized units are available in cold weather climates when temperatures dip below freezing.
Bathroom are often an after thought when planning an event. It's not a topic to be brought up in polite conversation. However, when you've gotta go, you've gotta go! You can break the stereotype and impress your guests with all the amenities of a traditional bathroom, plus the convenience of a "portapotty." When your choose our 2-Unit Solar Restroom, your guests will appreciate your discerning taste.
Contact us today to reserve the Solar Prestige Restroom for your next event, or learn more about D Aguiar Productions complete line of portable toilets and restroom trailers solutions for your next project.