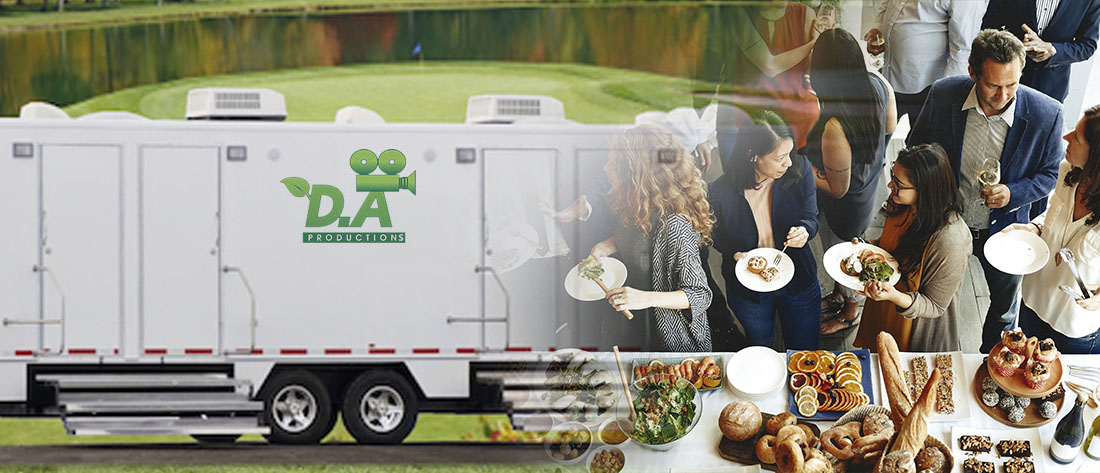 Our largest and most effective unit is completely ready for the crowds. The 'Longfellow' ten station portable restroom trailer model is built for special events, casual or formal. It features 5 spacious female stalls, 3 urinals, and two male stalls, and comes equipped with a mammoth waste tank of 865 gallons. It can be built with a 225-gallon capacity fresh water tank and 865-gallon waste tank. If preferred, it can be deployed only with the waste tank. The trailer is standard with LED low amp draw lighting. You can choose between gray rubber flooring, or alternatively, we offer a durable spray-based flooring. The dimensions of the unit are 24 feet long by 8 feet wide. When you hire the unit, you also get the professional driver to transport it to your location. 
These restrooms are fitted with hand-formed, solid surface countertops. There is a built-in trash chute for convenience, and a lockable basket area. The white porcelain spring loaded toilet bowls operate with a pedal flush, allowing for hands-free operation. Of course, each stall comes equipped with a convenient toilet paper dispenser. On the men's restroom side, there are water-conserving porcelain urinals as well as hard poly, washable privacy dividers. Men and women alike can ensure that they are still looking their best during their bathroom break, thanks to the two single vanity mirrors on the men's side, and the double vanity mirror on the women's side. The overall effect of the design is to project an atmosphere of luxury, cleanliness, and glamor. Just what people need when they're attending a prestigious event. 
When do you need a 10 station portable restroom? Well, for small events (less than 250 people) we would recommend one of our smaller units. However, if you are holding an event for more than eight hours or for more than five hundred guests, a 10 station unit might be your best bet. This is especially true if you're serving food and beverages. If the event includes alcohol, you may want to err on the side of caution even with shorter durations or lower numbers of guests. This will depend on how much you expect your guests to drink, of course. Typically you'll want to prepare for 40% more restroom usage than standard. Another factor that is worth considering is the gender breakdown of your guests. If you are expecting more female guests than male, you might want to offer a trailer with more stalls. An event with significantly more male guests can probably manage a smaller trailer with fewer stalls. You should ensure that you have enough hand washing stations, too. The ratio should at minimum be 1 hand washing station to 4 restroom stations. Our 10 station unit comes with 4 hand washing stations to 10 restroom stations to ensure that nobody is left waiting. If you are uncertain as to the likely requirements of your event, we at DA Productions are always happy to offer our insight and advise clients. 
Luxury Portable Restroom Trailers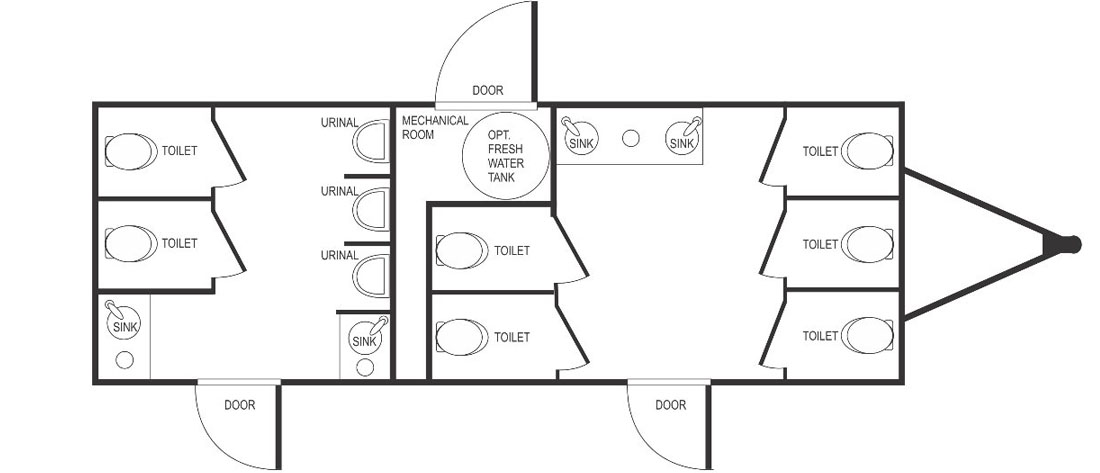 This model of portable restroom trailer offers some attractive additional features. Water flushing urinals with low-flow flush valves. A stereo system, with waterproof, ceiling-mounted speakers. Baby changing stations. Paper towel dispensers. Even built-in televisions. If you are planning on using your restroom trailer all year round, through warm and cold weather, you can option the winter package with additional heaters. All in all, these are not your standard porta potties. These are portable bathroom trailers which offer a durable and upscale environment perfect for any event with a guest list in the hundreds. When you want luxury restroom trailers that can keep the occasion feeling magical and glamorous, DA Productions is the company to turn to. We are experienced with working behind the scenes to keep the magic going. Literally. Our company was founded to provide upscale portable toilets for some of the biggest Hollywood production companies in the business. That's how you know you can count on us to be reliable, effective, and discreet. After all, if we can make it in Hollywood, we can make it anywhere… 
Choose the Longfellow 10 station model luxury portable restroom for your: 
Wedding

 

Private social event

 

Gala

 

High-end fundraiser

 

Corporate event

 

Concert

 

Festival

 

Sporting event

 
Luxury 10 Station Unit Portable Toilets
Do you remember the last outdoor event you went to? Perhaps it was a concert or cookout, a gala or county fair. Do you remember what restroom facilities there were? People generally don't remember the passable facilities. When it comes to restrooms, people are prepared for mediocrity. What they aren't prepared for are egregious situations. Remarkably negative experiences, especially when they pertain to cleanliness or impurity, have a habit of sticking in the memory. The same is true of remarkably positive experiences. The kind of experience, in effect, that we at DA Productions strive to provide every time. 
When you're considering what to do about restroom facilities for your event, we understand that it's tempting to cut corners or settle. Please don't. Your guests deserve to enjoy their event from beginning to end. If they are waiting ten minutes to navigate a dark, dirty porta potty that ran out of toilet paper an hour ago, it's going to cast a pall over the rest of their event. If there is drinking and food at your event, they might even have to return. That's the point at which discomfort could become resentment. Make sure that your guests' thoughts are on how wonderful your event is, by providing them with a pleasant restroom experience. Our 10 station unit offers a clean fresh exterior, greets each guest with heavy-duty fold-up aluminum steps and rails for easy access, and air conditioning to provide relief from the heat as well as help manage odor. Your guests will appreciate flushing toilets and the onboard fresh water tank that means they can wash their hands in the first hour of your event. Imagine how grateful they'll be if they come back after the tenth hour of the wedding reception, music festival, or corporate picnic. Details like this are what distinguish a mediocre event from a successful one. 
Choose Us for Your Luxury Portable Bathroom Rentals
DA Productions understands what is necessary to make an event successful. Reunion, ceremony, corporate get-together, whatever the occasion, we can work with you to make it happen. After working to the requirements of Hollywood's best and brightest for over a decade, we can't be surprised. However, you might be surprised by our commitment to customer service. We assist with setup once your event is being prepared. Everything you'll need for the duration will be ready: hand sanitizer and toilet paper in stock. If you find that multiple units are going to be necessary, we can accommodate that. Call us today to talk about the specifics of your event and get an accurate rental quote. Our number is (310) 879-0920. 
We can supply luxury portable restrooms to the following areas and beyond: 
Los Angeles County

 

Orange County

 

San Diego County

 

Ventura County

 

Santa Barbara County

 

San Luis Obispo County

 

Kern County

 

San Bernadino County

 

Riverside County

 

Imperial County